Have you experienced damaging flooding in your home or office in the last 6 months?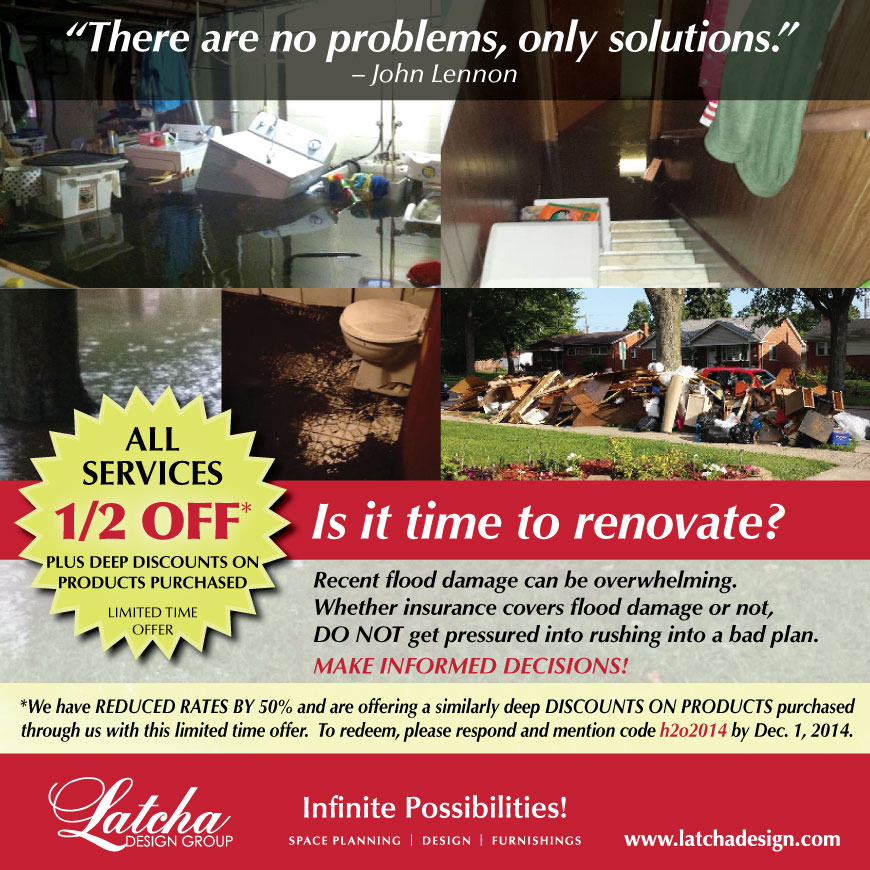 Flood damage can be overwhelming.
Make informed decisions.
If your damage is covered by insurance:
In most cases, you DO NOT need to use the companies your insurance recommends. CHOOSE YOUR OWN!
If your damage is not covered insurance:
Make the most of your space and keep your out-of-pocket expenses to a minimum by starting with a practical PLAN OF ACTION.
Are you in over your head?
Don't get pressured into rushing into a bad plan.
Set realistic goals and start small, experts say. This way you won't feel like it's such a drain on your resources. Whether you are covered by insurance or not, we can help you develop a budget and provide you with a practical plan to restore your space to a comfortable living space. Explore our solutions for developing living spaces that promote productivity, comfort, and health for body and mind.
No matter what your budget is, we will work within it and assist you in maximizing your investment. Our company provides innovative, comfortable environments with an emphasis on productivity, safety, aesthetics, and healthy spaces to work and play.
Judy Latcha
Latcha Design Group LLC
"There are no problems, only solutions" ~ John Lennon
ALL SERVICES 1/2 OFF*
PLUS Deep Discounts on Products purchased
*We have reduced rates by 50% and are offering a similarly deep discounts on products purchased through us with this limited time offer.  To redeem, please respond and mention promo code h2o2014 by December 1, 2014.
CONTACT US NOW
for a no obligation conversation!

313-881-5655